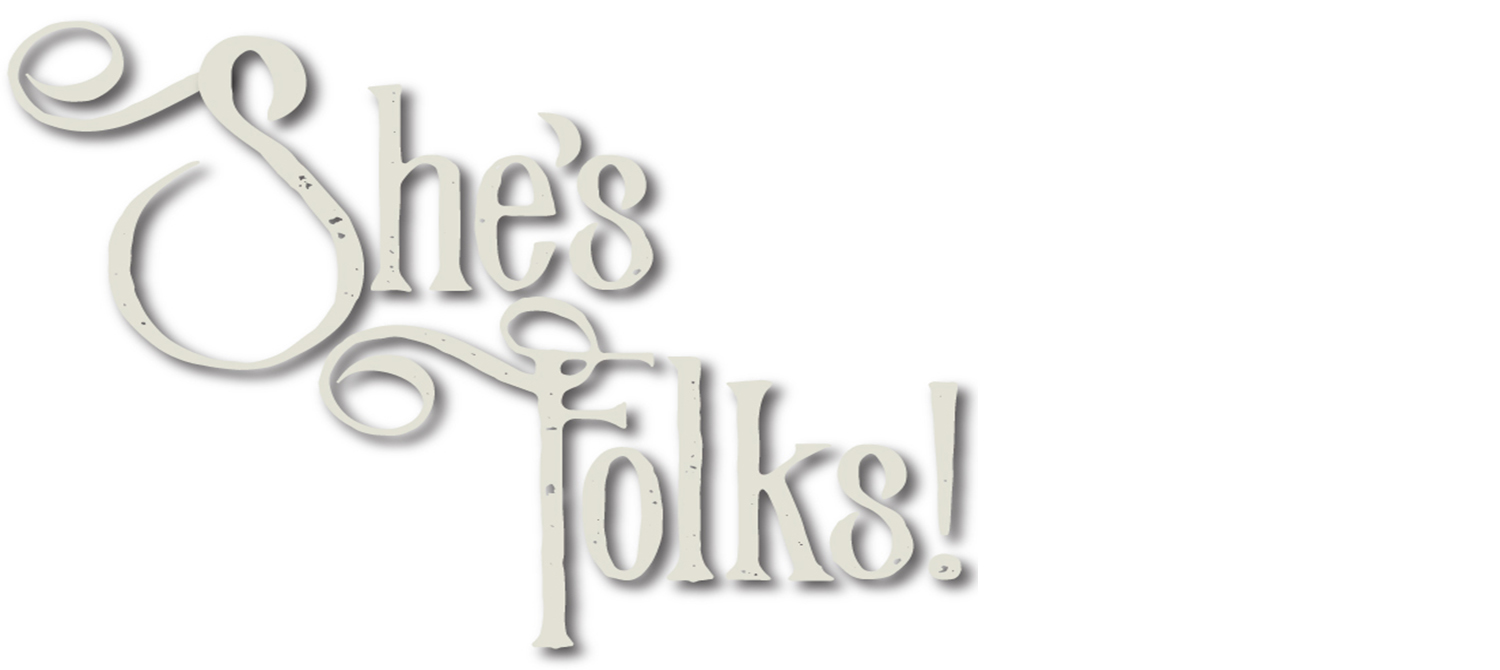 A love letter to the country
from a kid who couldn't wait to leave...
Elizabeth Morgan's She's Folks! is a little bit country, a little bit rock 'n' roll, and a lot of laughs. Journey from the city to farm country and back again through folk and country music, hilarious stories, soaring harmonies, and a wry view of the folks back home.
With our signature Story, Song, and Sass, we narratively travel our native Midwestern byways, railroads, and fields by truck, train and tractor, introducing the audience to original tunes such as "I-90 Take Me Home," "Little Town Girl," Trains," "The Threshold," "Back Home," and "The Truck Stop Where I Hung Out in High School," as well as beloved folk songs, covers, and hymns.
We happily sit between genres and art forms integrating traditional folk, folk rock, bluegrass, gospel, and country music, comedy, theatre, and memoir all with a Midwestern spin. The tie that binds is story.
She's Folks! is a love letter to the country from a kid who couldn't wait to leave. Where do we belong if we walk away? We reckon, "Home isn't the place; it's the folks."
Elizabeth Morgan is an actor, singer, writer, musician, and raconteur. "Betsy" grew up amongst ragweed and farm animals in rural northwestern Ohio. She graduated from Miami University (OH) with a Bachelor of Fine Arts in Acting. In 2004, she moved to Chicago where she has performed with many theatre companies including Backstage, Boho, Circle, City Lit, Hell in a Handbag, Kokandy Productions, Quest, and Theatre Building Chicago. She recently appeared as Margaret the Drunk in Firebrand Theatre's 9 to 5 and Samantha Stevens in Hell in a Handbag's parody of Bewitched!
Betsy is known for her diverse performance resume including industrial film, musical theatre, comedy, high camp, drama, and collaboratively devised theatre, as well as her passion for traditional folk music, bluegrass and early country.
Betsy currently writes and stars in her onstage memoir She's Folks!, as well as her weekly web series, Old Timey Tuesdays. She recently released her album, She's Folks. She is represented by Big Mouth Talent.
Find her at elizabethhopemorgan.com, shesfolks.com, and @shesfolks.
TYLER THOMPSON
BANJO, UKE, PENNY WHISTLE, VOCALS
Tyler Thompson is a writer and performer living in Chicago. He is the author of the play You'll Never Go Back to Hawthorn, which received its first Equity developmental reading last November at Victory Gardens. His screenplay Once We Were Slaves was an official selection at the LA Short Film Festival in 2014, and winner of Best Original Screenplay at the Madrid International Film Festival. He is the creator and host of the recurring variety show Fixed Abode, which showcases local musicians, poets, comedians and artists coming together for themed performances at events designed to raise money for refugees in Chicago. Last year he performed in and co-music directed the world premiere of Haymarket: The Anarchist's Songbook at Underscore Theatre. As an actor he has performed with First Folio Theatre, City Lit, Circle Theatre, Light Opera Works, Chicago Folks Operetta, Akvavit, Chimera, and STORY Chicago.
Alex Newkirk
MUSIC DIRECTOR, KEYS, VOCALS
Alex is an accomplished actor, pianist and music director. A graduate of Columbia College Chicago, he has performed with many different Chicago theatre companies including Steppenwolf, Drury Lane, Porchlight, and City Lit. His music direction, assistant music direction, and conducting credits include the Goodman Theater, Drury Lane, FWD: Theatre Project, Metropolis, The Hypocrites, Kokandy Productions, and Columbia College Chicago. Alex has taught music to all ages through programs at Drury Lane, Columbia College, and Broadway in Chicago as well as serving as a private coach. Alex recently appeared with Kristin Chenoweth in her performance at the Chicago Theatre. He often tours with Close to You: the Music of the Carpenters.
TED KITTERMAN
FIDDLE, Mandolin, VOCALS
Ted recently appeared as Dracula in First Folio Theatre Company's production of Dr. Seward's Dracula. An actor and musician, Ted was born in Ohio and raised in Clarksville, Tennessee. He has performed with Great River Shakespeare Festival, Roxy Regional Theatre, Clarence Brown Theatre, as well as Chicago companies like FWD: Theatre Project and Halcyon Theatre. Ted plays fiddle, mandolin, guitar, and trumpet. He is also a certified yoga instructor and text coach. Tedkittermanactor.com
Tyler COre
PERCUSSION
Tyler Core is a premier theatrical headshot photographer by trade and a fan of humanity by heart. Folk music is a true passion in his life and the storytelling aspect of the art form triggers all of his creative impulses. Of his random creative outlets, screenprinting, web design, poetry and video are his favorite free-time activities. Jontylercore.com
WHERE DID "She's FOLKS" Come From?
"See me!" called the little triumphant voice of Blossom. And Judy, lifting frightened eyes and holding her breath as she looked, saw. A small, swaying figure was coming toward her very slowly, over the hard sand. Blossom – it was Blossom! She was swaying unsteadily a step or two, but —she was walking!
"See me! See me!" cried Blossom. "I'm walkin', Judy, don't you see? I came a-walkin' down to meet you! It's a s'prise!"
Someone caught up the little figure and came leaping down to Judith with great strides of triumph.
"That's enough to s'prise her – mustn't do much of it at a time yet," Jemmy Three said gayly. "You've got to begin easy. Yes!" in answer to Judy's speechless pleading, "yes, sir, she's goin' to be a reg'lar walker, now, ain't you, Blossom? Yes, sir; no more bein' toted – she's folks!"
From Judith Lynn: A Story of the Sea by Annie Hamilton Donnell, 1906